If you found this page, it is likely because you are frustrated that Adobe took away the direct ability to export a 3D model from inside a 3D PDF. Here are some alternate paths you can take.
Back in Acrobat 9 Pro Extended, the ability to do this once existed and it was quite simple. However it seems Adobe has since made Acrobat much larger and somehow removed features at the same time.
After scouring the web I found very little to get this to work. I suspect it is because there are lots of ways to embed 3D into a PDF, and many of them are incompatible with certain tools. So here's all the options I came across and tried combined into one nice little post.
Option 1: Adobe Photoshop
Using Photoshop's 3D Layers, you can extract an OBJ file. Switch the Photoshop toolset to the 3D tools. Then simply Import the PDF using 3D > New 3D Layer from file, then Export the 3D model using 3D > Export 3D layer. It's pretty simple, but didn't work in my case, Photoshop just crashed. Not sure if it was an error with the PDF I was given or due to a change in Photoshops abilities.
Option 2: Acrobat 9 Pro Extended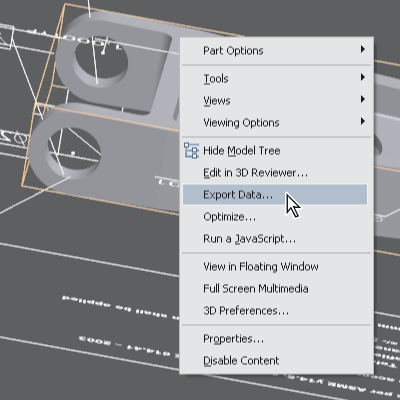 Next, I tried finding an old version of Acrobat 9 Pro Extended because I know this used to work. I remember simply using this Export Data option. Even in their manual it states:
If the geometry of a 3D model is converted using a PRC B-rep conversion setting, you can export and use it in CAM and CAE applications. Geometry is translated directly to standard file formats that comply with published specifications: IGES, ParaSolid, STEP, VRML, and STL.

Adobe Acrobat 9 Pro Extended Documentation
Even this didn't work because I couldn't find a safe copy of that anywhere even though I own a damn license... so that is double annoying because the solution used to be this easy. Eventually I stopped trying to find an installer and moved on to another option.
Option 3: BackToCAD PrintToCAD
BackToCAD Technologies has a software called PrintToCAD. The software claims 3D PDF to 3D DWG, STEP, SAT, OBJ, PRC, U3D. Should be as simple as Import and Export. Seems like a great solution ....but for some reason this didn't work with this model either.
Option 4: SimLab PDF Importer Max Plugin

Simlabs PDF IMPORT seemed like my best option. I was excited about the possibility of this kind of simplicity. It's exactly where I wanted to go from Point A to Point B. The only problem is that it didn't work. I would try to import my file and the importer would appear to be busy, then it would just stop with no result or prompt. I suspect it may work sometimes with certain types of 3D PDF embeds.
Option 5: Sumatra PDF
I had never heard of Sumatra PDF, and was a little skeptical. The page is pretty sketchy and not so high-tech. But after trying so many things what could it hurt to give it a try. So I opened a Windows Sandbox, opened Sumatra. I always do this with new software because I don't trust anything these days, especially lesser known software. I did the same for the previous software too.
Shoutout to the new Windows Sandbox for a great way to easily test potentially harmful things!
Anyway, back to the task at hand... Sumatra opened quickly. It's not even an installer, it's just an EXE that runs and does what you need. I dragged my 3DPDF into it. It opened the files super quickly.

Right away i could see that it has an embedded STEP file in it. BINGO! I simply clicked on that step file and it automatically opened a save window and I got to save the source. Bang. That's what I wanted! Then I imported that STEP file in max and it came in perfectly with all instances still in tact.
So thank you to Krzysztof Kowalczyk of Sumatra for releasing something that actually works and is super intuitive. Your site may not be fancy, but you beat adobe with their own format!
Some Untested Additional Options:
Never tried this tool called 3D PDF to OBJ Conversion Library from ProtoTech Solutions, but apparently it says it can accomplish this task as well.
There is also a way to hack the PDF to pull out the embed code for the 3d model and rewrite it by itself. This seemed too time consuming to attempt.